Saloom Furniture Reviews
Here are just some examples of what people are saying about Saloom Furniture Company. We welcome your feedback as well!
---
Hello,
Today I received my dining room set of a Carson dining table along with two Model 28 upholstered arm chairs and six side chairs. I couldn't be more thrilled. The set is truly beautiful and exceeds my expectations. The style, color, finish and upholstery are all top notch. The care and attention to detail make this set something that will be a treasured part of our family for many, many years to come. I consider it an heirloom.
I was pleasantly surprised when the furniture shipped within ten days of my order, and I received it today – just a little over 6 weeks from the date of order – with truly "white glove" service.
Thank you, thank you for making this Thanksgiving extra special,
Andrea
Edmond, OK
---
"We recently bought your Saber dining table with 6 chairs. We also bought the 68" buffet. I cannot tell you how 'worth the wait' our reaction was when they were delivered. We are so happy with the workmanship and finish on all the pieces. Very classy. Loads of compliments… Thanks for a dining room we will love for years to come."
Kathy L.
Bend, Oregon
---
"We ordered our table on August 25th. My husband was so sure that we wouldn't get the right table or the right color. My husband was so pleased that it was the right table and the wood matched our chairs perfectly, and it felt like satin. We love it, it's gorgeous, and it's made so well. We just wanted you to know how pleased we are and to thank you for such a lovely, beautifully made table."
Marion K.
Clearwater, Florida
---
"I purchased one of your dining room tables and 4 chairs, which were delivered this weekend. The set is gorgeous. I love it! Your work is beautiful. I want to thank you for making such wonderful and quality furniture at reasonable prices. I will highly recommend your work to others and hope to buy from you in the future."
Sharon G.
Via email
---
"Just wanted to say we received our table … it is absolutely beautiful. We couldn't be happier. Please extend our thanks to all who made this table at Saloom. All we can say is thank you, but you can rest assured that we will let people know about the mastery of Saloom. Looking forward to our next purchase."
Greg C.
Via email
---
"I recently purchased and received your water front buffet and I wanted to let you know how much I love it! I was somewhat anxious buying it from a photograph in a catalog, but I was so pleasantly surprised when I received it, that I had to write and tell you. It is a beautifully designed and constructed piece of furniture, and pictures do not do it justice. The carving on the front is much more subtle than the photo would suggest. It has given my once dated dining room a sophisticated and modern edge. Thanks for being an oasis in the desert of boring mass production American furniture."
Ellen
Reading, Massachusetts
---
"To the owners of Saloom Furniture and to the talented craftsmen/women:
We finally puchased our Saloom kitchen table and chairs and are thrilled with the quality, color, material and style. Not only are we happy that we made the decision to buy our furniture from Saloom…we're also very pleased that the furniture arrived in excellent condition! It's amazing what great craftsmanship can do for a kitchen! We love the "new look" …and…we've received many compliments from family and friends.
It took us a long time to decide on a style of kitchen furniture that we would be happy with. We couldn't be more pleased that we chose Saloom. Our once dated kitchen, is now up-to-date and stylish.
Thank you!"
Diane M.
Endicott, NY
---
Just wanted to write you and tell you how happy I am with the trestle table I ordered from you! I looked for well over a year before I ordered a table from you! I do daycare and was so afraid to get a new table for fear they would ruin it. But I'm happy to say it's almost a year old and it looks like the day I received it. So happy with my choice and your workmanship! This will be the first holidays I have with it and am so excited to have family sit around it for holiday dinners!
Thank you so much!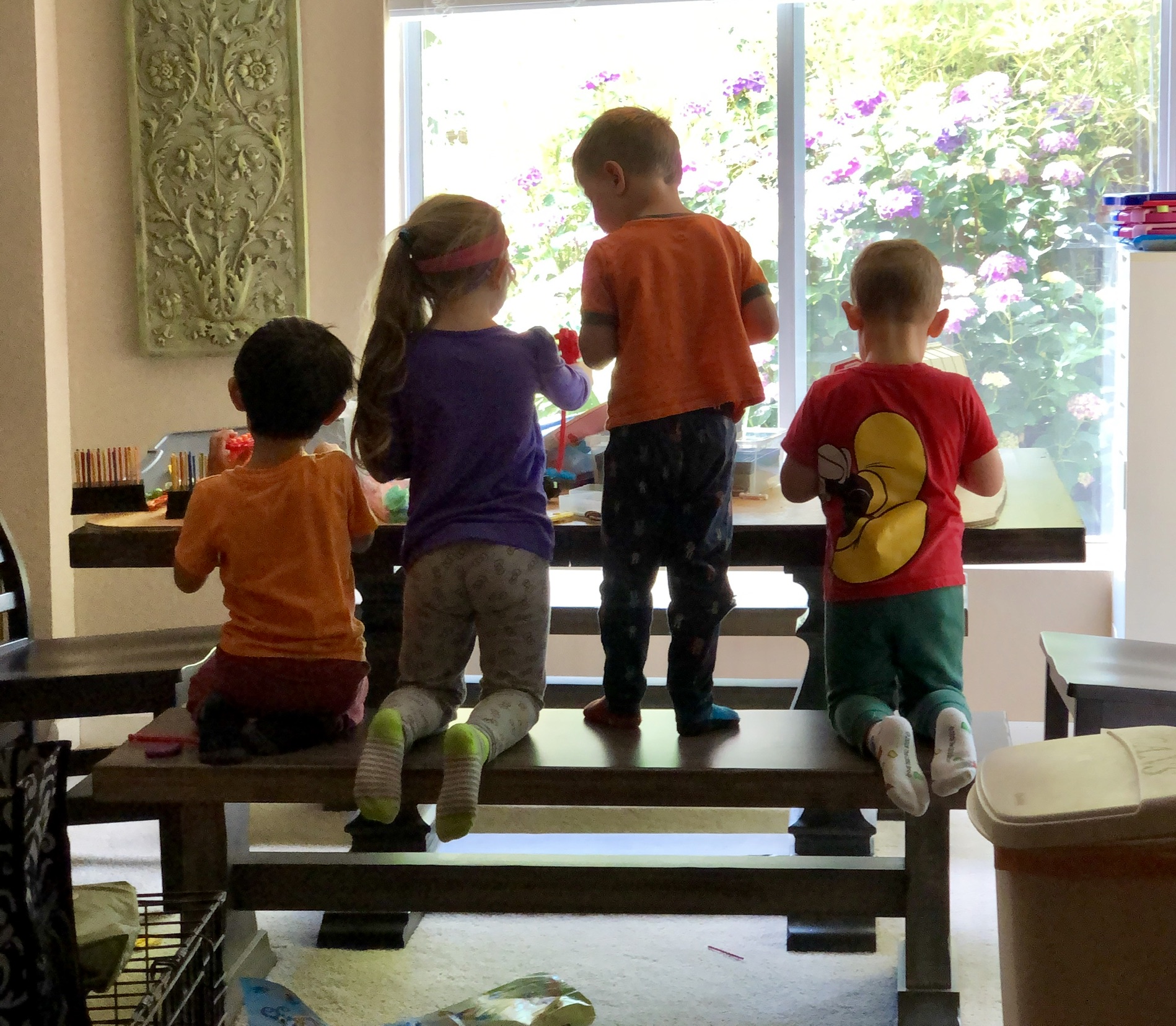 Terri H.
Oregon
---